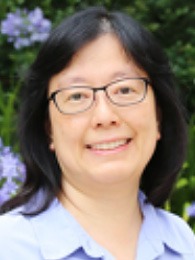 Szu-Wen
Wang,
Ph.D.
Professor, Chemical & Biomolecular Engineering, and Biomedical Engineering.
Office
916 Engineering Tower
Wang's research examines the design, fabrication, and self-assembly of novel biomaterials for tissue engineering and drug delivery applications, with a current emphasis on immunomodulatory materials, especially in complement activation and dendritic cell responses. In these studies, she showed that packaging antigen and adjuvant in a geometry that mimics viral particles significantly enhances cytolytic CD8+ T cell responses. Dr. Wang is collaborating with Dr. Felgner on using nanoparticles for vaccines against Coxiella burnetti. She has mentored 12 PhD graduate students (graduated + current) 2 of whom are URMs and 7 are women (underrepresented in engineering). Dr. Wang also collaborates with Dr. Pearlman on corneal infection project, examining slow release of anti-mycotic agents following infection with pathogenic fungi.
IFI Research Focus Area(s):
Synthetic Immunology
biomaterials that can activate or suppress immunological responses