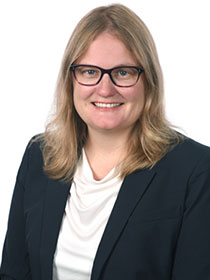 Jennifer
Prescher,
Ph.D.
Professor of Chemistry, Molecular Biology & Biochemistry, and Pharmaceutical Sciences
Office
4142 Natural Sciences I
Dr. Prescher has generated biocompatible and bioluminescent imaging agents that can characterize how cells communicate over space and time and will provide new insights into cancer progression and metastases, immunology, and host-pathogen interactions. Twelve of her graduate students completed their PhDs, with 9 in academia or industry positions (UCSF, UCI, U of Chicago, Yale, UC Berkeley, Syracuse, The College of New Jersey, Merck, and Genentech). The other students also remain in the scientific profession: one is an AAAS Fellow working in the Department of Defense and the other is an Instructor at Cal Poly. Her students have also received NSF Graduate Research Fellowships (5) and competitive internal awards, including NSF IGERT and NIH T32 training grant fellowships. One of her current students, Caroline Brennan, is training grant eligible, and plans to apply for an award.
IFI Research Focus Area(s):
Synthetic Immunology
custom tools to visualize cellular networks in real time