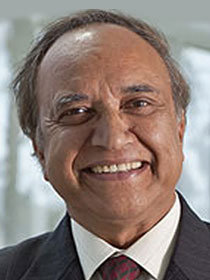 Sudhir
Gupta,
M.D., Ph.D.
Professor and Chief, Division of Basic & Clinical Immunology, Department of Medicine, and Director of Jeffrey Modell Center for Primary Immunodeficiences
Office
C240 Medical Sciences 1
Dr. Gupta is also Editor-in-Chief  of the Journal of Clinical Immunology and Director of Scientific Development at the Sass Foundation for Medical Research, N.Y.
Dr. Gupta's research interests include:
Genetic basis of primary immunodeficiency diseases, functional and molecular characteristics of CD8 Treg in health and diseases. B cell biology in primary immunodeficiency diseases. T follicular helper and T follicular regulatory cells.
IFI Research Focus Area(s):
Autoimmunity and Chronic Inflamation
primary immune deficiencies