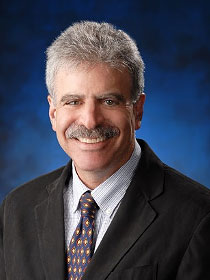 Dan
M.
Cooper,
M.D.
Professor of Pediatrics, and Associate Vice Chancellor, Clinical and Translational Research
Office
843 Health Science Rd.
Dr. Dan M. Cooper is the Associate Vice Chancellor for Clinical and Translational Science at UC Irvine, and former Chair of Pediatrics at UC Irvine. He is the Principal Investigator of UC Irvine's Clinical and Translational Science Award (CTSA). Dan received his MD from the University of California, San Francisco in 1974.  He completed his Pediatrics Training at NYU/Bellevue Medical Center. He went on to a 3-year fellowship in Pediatric Pulmonary Medicine under the mentorship of Dr. Robert Mellins at Babies Hospital, Columbia University. Dan was then recruited to Harbor-UCLA Medical Center where he worked closely with pioneering exercise scientists Drs. Brian Whipp and Karlman Wasserman. As a pediatrician, pediatric pulmonologist, and former director of a busy pediatric intensive care unit, his career in research, teaching, and clinical care has been formed by working with children with diseases like asthma, cystic fibrosis, and lung disease of prematurity—all conditions in which chronic inflammation takes a terrible toll. His research has been focused on the mechanisms that link exercise, growth, and health in babies and children. Dan founded the Pediatric Exercise and Genomics Research Center (PERC) at UC Irvine in 2003. PERC is dedicated to uncovering biological mechanisms of exercise that can be used to improve lifelong health of children with chronic disease and disability using exercise-as-medicine. Dan was one of the principal investigators of Project HEALTHY, a pioneering  national study involving over 3,000 middle school children designed to reduce obesity and type 2 diabetes through school-based nutrition and PE programs. The results of this project were published in the New England Journal of Medicine.
Dan's laboratory is currently funded through grants from the NIH, and his group was named as the national pediatric center for a multicenter NIH Common Fund study to uncover the molecular mechanisms through which exercise influences health (MoTrPAC).  PERC is the major recipient of a recent NIH grant to revamp exercise assessment in child health, a project which will focus on children with sickle cell disease and children with cystic fibrosis. Dan's laboratory group is focused on the mechanisms that link systemic physiologic exercise-responses to health and disease in healthy children and in children with chronic disease and disability, and was the recent recipient of an NIH grant to support Project REACH (Revamping Exercise Assessments in Child Health) which will focus on novel approaches to using exercise testing in children with sickle cell disease and cystic fibrosis.
Dan has been active in COVID-19 related clinical and translational research projects since the very beginning of the pandemic. The ICTS has been instrumental in UCI involvement in the first randomized clinical trial sponsored by the NIH to test the efficacy of the antiviral drug remdesivir. In addition, Dan, as the current chair of BRAID (Biomedical Research Acceleration, Integration, and Development; the coalition of the 5 UC medical centers that have NIH Clinical Translational Science Awards) is part of regional and national studies focused on the use of convalescent plasma for COVID-19 disease prophylaxis and possible treatment. Finally, Dan is part of a national group of pediatric thought leaders focused on strategic planning to re-open schools as safely as possible.
IFI Research Focus Area(s):
Autoimmunity and Chronic Inflamation