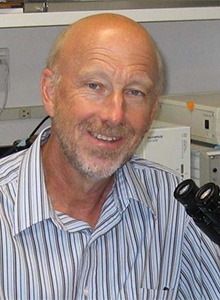 Michael
Cahalan,
Ph.D.
Distinguished Professor and Chair of the Department of Physiology & Biophysics
Office
D340 Medical Sciences I
Dr. Cahalan pioneered the study of ion channels in T cells, and the use of 2-photon imaging to characterize ion channel activity in vitro and in vivo. His studies on lymph node cellular dynamics led to an improved understanding of how the lymph node functions as the organ of antigen recognition and activation. Dr. Cahalan's lab is now studying the cellular and molecular bases for suppression of calcium signaling in Th17 cells by regulatory T cells in the context of the EAE model of autoimmune neuroinflammation. Dr. Cahalan has mentored 11 graduate students and 29 postdoctoral researchers. Several former students and postdocs have become faculty members with successful independent research programs. Others have leadership positions as research scientists in biotech and pharma companies.
IFI Research Focus Area(s):
Autoimmunity and Chronic Inflamation
T cells, ion channels, autoimmunity, neurodegeneration